No. 2006, Xueyuan Road, Rongcheng City, Shandong Province
Our hospital carried out a group integrity talk
Propaganda and United Front Work Department
---
In order to further forge the ideological line of defense of "not wanting to be corrupted" and create a clean campus political ecology, on the afternoon of September 27, the hospital held the 2022 Integrity Talk Conference, with Secretary of the Discipline Inspection Commission and Ombudsman Yang Jun presiding over the meeting and making a speech. Party branch secretaries, middle-level cadres and 37 people in the first-level risk positions attended the meeting.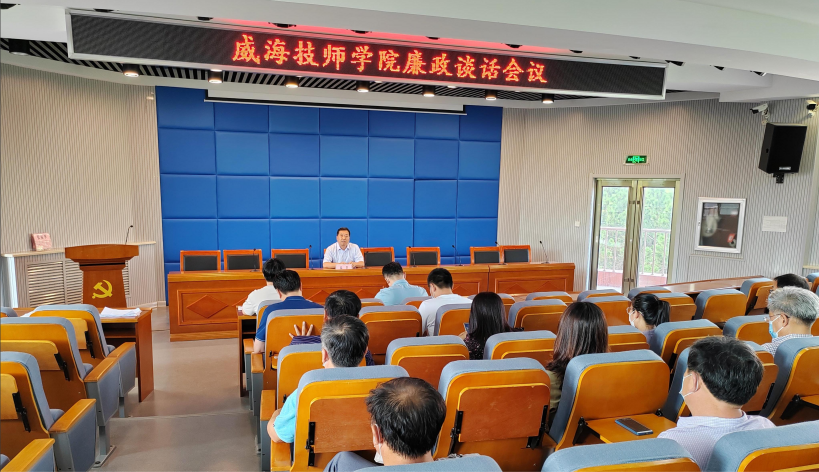 At the meeting, Yang Jun explained the six disciplines of political discipline, organizational discipline, integrity discipline, mass discipline, work discipline and life discipline of the party, and combined with the actual situation of the college, he chose a typical case around the discipline requirements, disciplinary facts, treatment results and other aspects of in-depth analysis, explaining discipline by case, educating everyone must always keep The meeting pointed out that as the backbone of the college, we should always be alert to the laws and regulations and always have a sense of reverence, and build a line of defense against corruption and change.
The meeting pointed out that, as the backbone of the College, we should strengthen political awareness, enhance learning, constantly improve political judgment, political comprehension, political implementation, and enhance the ideological and operational consciousness to defend the "two establishments"; strictly abide by the Party's discipline, always stand up for discipline in the front, perform our duties in accordance with the rules and regulations, and resolutely implement the College All decisions and deployments; to look to advanced figures, tighten the string of integrity and self-discipline, to achieve clean officers do not have problems, clean work is not out of line, to live up to the trust and trust of the organization and the staff.
Collective integrity talk received a good effect, we have said that we should start from themselves, from now on, do not forget the original intention, remember the mission, clean self-discipline, take responsibility, to promote the college comprehensive strict governance, the party wind and clean government construction and anti-corruption struggle to deepen the development of the contribution.